ZIMBAMOTO is a Vancouver-based ensemble led by Canada's foremost mbira and marimba virtuoso, singer and songwriter, Kurai Mubaiwa. The band also features renowned world percussion artist and composer Curtis Andrews on drums, percussionist Navaro Franco, guitarist Mark Campbell and bassist Greg Valou.
Mixing the traditional music of Zimbabwe with electric grooves and heavy beats, they create a hypnotic sound that is uniquely built for the dance floor, evoking the village as well as the urban street party.
The music is rooted in the classical repertoire of the mbira, a metal-tined 'thumb piano' that first appeared in the Zambezi River valley nearly 1,000 years ago, that is traditionally used to invoke ancestral spirits.
KURAI MUBAIWA - Lead vox, mbira, marimba, percussion
Kurai has played the mbira since childhood in his native Zimbabwe and has established himself as the source of traditional Zimbabwean music in Canada. He has toured across Europe, West Africa, Southern Africa and Canada.

CURTIS ANDREWS - Drums, percussion, vox
Percussionist, composer, scholar, teacher, and philanthropist, Curtis' ongoing journey has taken him from the villages of West Africa to the metropolises of South India. He performs in a wide variety of musical styles and is currently completing his Ph.D in ethnomusicology.
MARK CAMPBELL - guitar, vox
Mark is a guitarist and bassist , music teacher and composer who has been making music for over 30 years, hailing from the west coast of Canada


NAVARO FRANCO - Percussion, vox
Navaro has devoted her life to studying the ancient wisdom of tribal cultures through rhythm and dance.. She has performed and taught drumming, chant, and dance for 30 years.

GREG VALOU - Bass, vox
Greg is a self-taught composer, producer, and multi-instrumentalist. He plays in many world music, psychedelic, rock and experimental music projects in Vancouver.


Released November 23, 2017, TAMBAI means "Dance!" in Shona, an indigenous language of Zimbabwe. The album features original that reflect Kurai Mubaiwa's experiences growing up in Zimbabwe, as well as arrangements of traditional Zimbabwean mbira and drumming songs, some of which are hundreds of years old, designed for ceremonial dancing.

High-res


High-res

High-res

High-res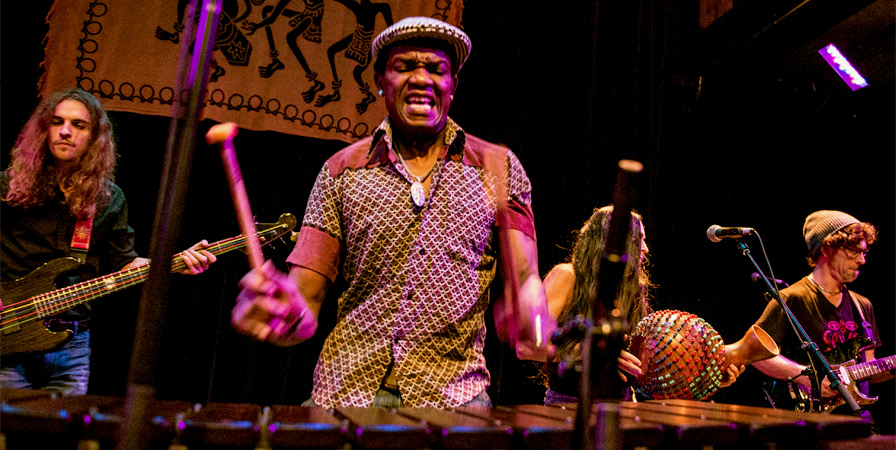 "Zimbamoto is the most exciting band playing African music to emerge on the West Coast for too many years. They perform mesmeric music for mind, heart, and feet - you'll have to work hard to stay seated once they start!"
- Tony Montague, music journalist for the Georgia Straight, Penguin Eggs and ROOTS (U.K.)



https://www.facebook.com/zimbamoto.zhambai
E-mail:
Photography by: WendyD Photography